The landscape you envision becomes a reality with inspired original design.   Our successful designs come from our ability to analyze your location, and implement your intentions for the space. We are not well-suited for clients looking for piecemeal landscape design work versus redesigning the full garden space nor if you already have a very detailed vision of what you want for your space.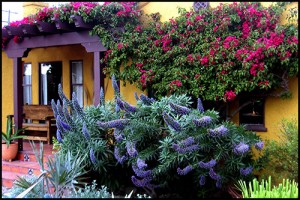 VALUES:  Space is lived, shared, and used.  It exists in a complex web of natural and manmade connections, and everyone is a participant, everyone a stakeholder.  Carl Balton + Associates is dedicated to uniting our clients' needs with a clear and creative vision for the unique places they inhabit.  Our goal is to create landscapes that people love.  Our designs have renewed the environmental integrity and transformed the quality of a wide range of residential and commercial spaces.  We have extensive experience working from Master Planning through realization and beyond.  We believe that if the solution is right, it will enhance the environment and be beautiful, people will use it, and it will endure.
WORKING WITH CLIENTS:  Every physical space is unique.  We work closely with clients to understand their sites and the fabric – social and environmental – in which they are woven.  We do not impose a program or a signature style.  Designs emerge out of the intensive process of re-imagining place and use.  We are well versed in responding to concerns, anticipating challenges, and accomplishing what together we envision.
HOW WE WORK TOGETHER:  We marry accountability with accessibility and this makes it easier for clients to get attention and information.  We believe that the better the input from our clients, the better the solution.  It also means that there is more than one creative idea and the contest of ideas produces better designs.  The team extends to our installers and craftsmen with whom we collaborate.  We all communicate, we all work together, very humbly to the point that no one is trying to outdo someone else, because at the end of the day, we all know that the success of the design is the blending of the professions.
Don't hesitate to contact us for a free consultation.
3-D Site Planning and Evaluation
Construction Design Plans and Consultation
Recycled and Sustainable material choices
Efficient Irrigation
Water Features
Hardscape (Walkways, Paths, Patios)
Landscape Lighting
Entertainment areas and Fire Pits
Pergolas, Arbors, Decks and Fencing
Climate appropriate planting palettes
Organic Vegetable Raised Beds
Container Planting
Landscape Maintenance (Program Design and Vendor Selection)